President`s Message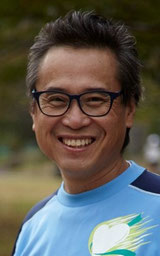 Hello everyone!
 My name is Koichi Kakimoto (Kackey), appointed as a second chairperson of Urayasu Runners Club (URC hereafter) since June, 2012. I sincerely hope we can continue our good friendship together.
  We are an active, citizenship sport group based in Urayasu City, with our motto of 'Contribution to our daily health, friendship, running skill development, and to the local society and international friendship development through the fun of running'.
  The URC's member has reached about 200 ranging from elementary school student to seniors over 80 since April, 1995. There are several kinds of people who care for daily health and jogging, attending marathon race aiming for the full marathon time of less than 3 hours, enjoying 100km ultra-marathon, and streaking through mountain as an ironman racer. On the other hand, children aged from elementary school to junior high school have also been enjoying higher-raking winner for races forming the one-of-a-kind and strongest team in Urayasu City. They have been promoting the running life helping each other over the ages, without caring about the age difference.
  In the regular training, URC has been engaged in a plan to aim at master the efficient running without any hurt or injury, for not only the speed runner but also for the slow jogger. URC has also invited external training coach for the professional leading once a month. I have known as much about the visible growth of running records and youthful styles of the members. I really hope that all URC members could continue a long and happy run-life, achieve individual objectives, and share their joys together!
  Urayasu City has been surrounded by seas and rivers and favoured in terms of training courses. We have been exercising in the fun and easy-going courses along the sea side park and Tokyo Disney Resort. We have also been enjoying long-distance running for Odaiba central Tokyo park, Kasai Rinkai Park, Tokyo Sky-Tree, and Arakawa-riverside. We never get tired of looking at the seasonally changing and colourful scenery of Mt. Fuji, calm ocean and nature.
  One of our best value is the closely-tied friendship with Orlando Runners Club (ORC, hereafter) as a sister club, Florida, U.S. Both members have been enjoying the international friendship year in and year out though the 'common language' of running such as daily information sharing by Facebook and email, joining mutual local races, holding parties, and each other's homestay. In Japan, the intercommunication with other clubs has been very active and we've been closely making friends among others. URC are trying hard to share the fun of running through the interexchange with other clubs.
  This is it, URC. Please do not hesitate to join us freely if you are interested in. We are always arms-open welcome you. Let us have a fun running!!
Koichi Kakimoto (Kackey)
President, Urayasu Runners Club